My friend Kelly is one of those women who makes pregnancy look easy. She is one of the few who actually had her baby on her due date. She looks fabulous throughout her pregnancy and is back in her old jeans shortly after giving birth.
Not me. By week 30, my nose is three times its original size, my stride is more like a waddle, and my bra cup looks more like an industrial sized mixing bowl. When my weight surpasses my husbands, I write off the added weight as a 20 pound baby. That way, I don't feel as bad about carrying around the extra 60 pounds.
While most men wouldn't dare say something about a woman's increasing size, I found the one who would. He's my new OBGYN and he certainly has an opinion about excess weight gain during pregnancy. As my weight begins to creep up and my next appointment draws near, I have decided to follow my friend Kelly's suggestion and sign up for a prenatal exercise class.
The class started on Monday. Two days later, I can barley walk. Surrounded by waterbirth lovin mamas-to-be in their thirtieth week of pregnancy, I did my best to keep up. I survived a hour of cardio, strength training, and yoga and immediately came home to take advantage of MR's bag of potty training M&M's. The reward will certainly be my incentive for the next 7 weeks of class!
We're off to Waycross this weekend to spend some time enjoying warmer weather, family, and good ole southern food. See you at the start of next week with new pictures from our adventures!
I took a total of 8 pics from my last pregnancy. I'm vowing to do better this time around.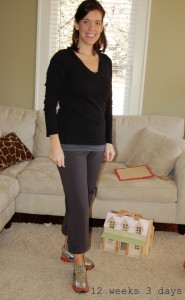 Thank God she still lets me dress her…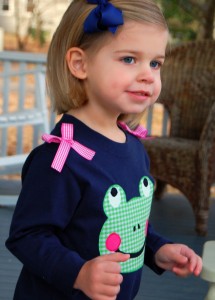 because if she had her way, this is what she would wear.