I told G that either one of two things had to happen if I was to survive the week long cold spell. Option one was a trip down south to the beach. Option two was to speed up the pregnancy process and put on an additional 10 pounds to keep me warm. By the looks of this picture, option two won…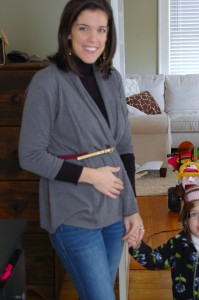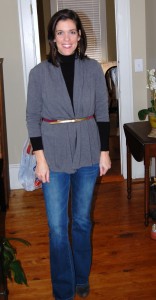 Yep, I'm 12 weeks along and as you can see, I'm already showing. I'm also learning that skinny belts under large boobs and a big belly does not make for a very flattering outfit. I'll be filing that lesson away for future use.
For comparison sake, this is me pregnant with MR at almost 14 weeks (2 weeks later than the pics above). The Peter Pan flip haircut is also filed away in future "no-nos"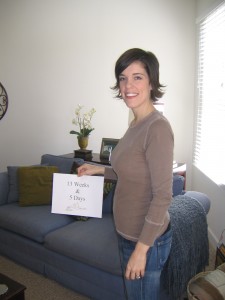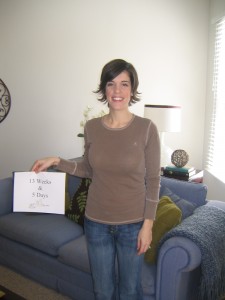 According to the weatherman, we are two days away from sunshine and warmer temperatures. I'm counting down the days until sweet MR can trade in her winter coat and mittens for some spring-like attire. In the meantime, I'll continue trading in that pretend trip to the beach for a bag of m&m's.
I could hardly wait to get MR up from bed on Friday morning to show her the snow on the ground. When she awoke, I opened the blinds and told her to look outside.  She gasped in amazment and said, "Yook Mama, we's at the beach!".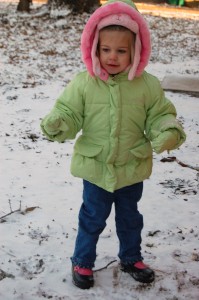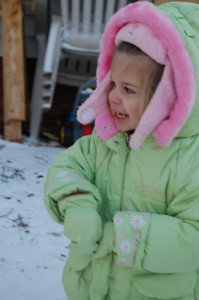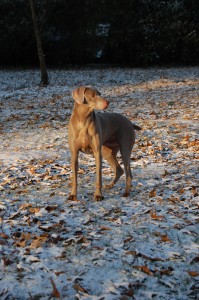 Hats and gloves have become the standard uniform around here.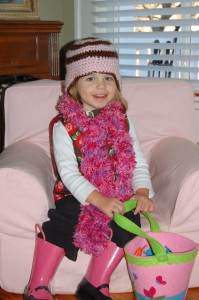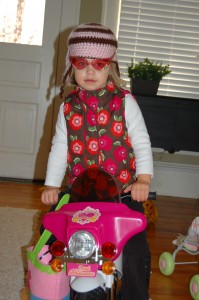 While eating my weight in Sun Chips and m&m's, Ive also been working on a few new designs for Petey Pie's.