Four Christmas gatherings means four times the food, fun, toys, memories, and laughs. And of course, four times the pictures.
Christmas #1:We celebrated Christmas #1 in Blackshear, GA in early December. Mary Reese loved playing with her cousins and mama and daddy loved having the extra set of hands to entertain sweet MR.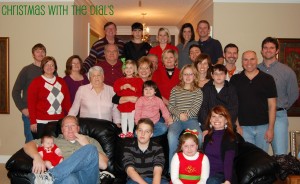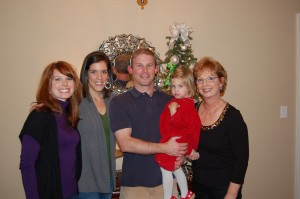 Christmas #2:Our trip down south also included a visit to MR's great grandparents. MR adores her Papa Huey and Meme Vonnie and as usual, they showered sweet MR with gifts and hugs.
Playing cards with Papa Huey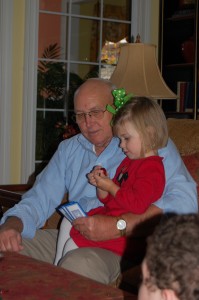 MR received her first Cabbage Patch kid from Meme Vonnie and Papa Huey. Aunt Cathy, Uncle Jerry, Cousin Madison and Matthew gave MR a handmade scarf and precious pink tutu.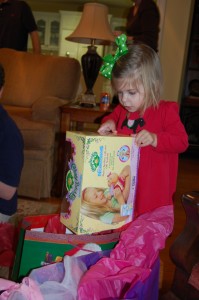 MR and I received matching monogrammed aprons from Meme and Papa Joe.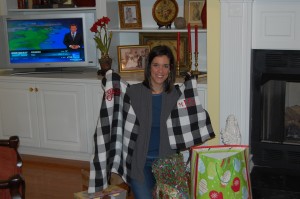 MR loves to visit Papa Huey's horses when we are in town.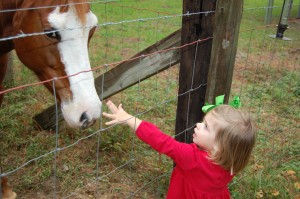 Christmas #3was spent with the my side of the family in Atlanta. This was the first year that Garrett and I have spent Christmas day in our house. Being able to celebrate with my sister and her family made the occasion that much more special. Gran C and Big Daddy and Uncle Brother and Aunt Cookie were kind enough to travel so that we could spend Christmas Eve and Christmas day together as a family. We were also blessed to spend this time with Danny (Garrett's mom).
In true Harrell tradition, we spent Christmas eve feasting on shrimp, crab stew, and a variety of delicious desserts. After our meal, we exchanged birdie gifts (gifts purchased for $5 or less).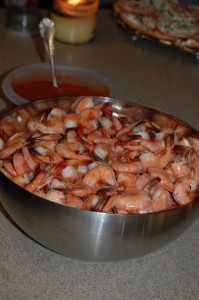 MR helped me bake this years batch of holiday treats.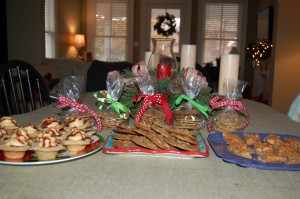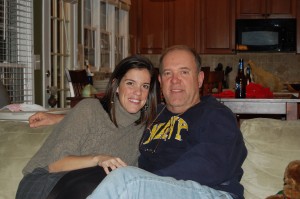 This year the little one's joined the Birdie fun.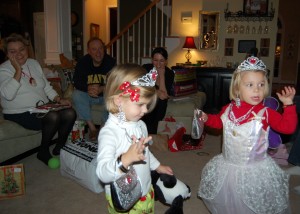 I made appliqued dishtowels as my birdie gift for the girls in the family.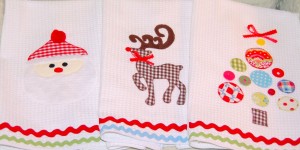 On Christmas morning, MR awoke to a tree filled with gifts and surprises. She also got in a little snuggle time with Danny on the couch. After we opened gifts, we headed to Julie's for yet another round of Christmas cheer.
Homemade cookies for Mr. Claus
A festive garland celebrates memories from Christmas past.
Christmas Eve PJ's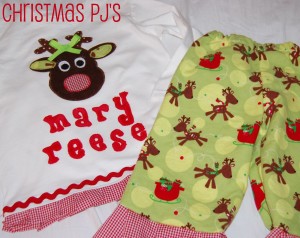 2009 Christmas Card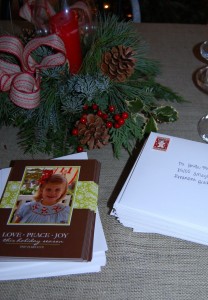 Christmas morning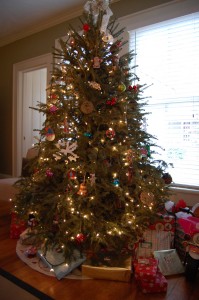 MR's Christmas gifts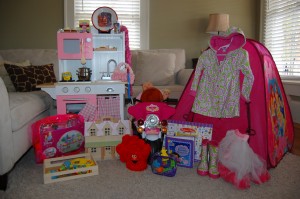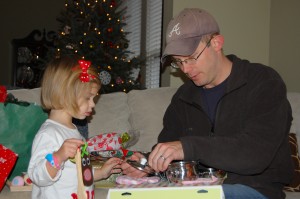 Keeping warm with Danny.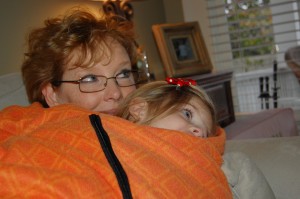 Christmas afternoon with Nene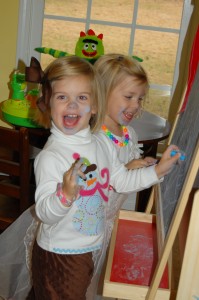 Christmas #4:Our final Christmas gathering took place the weekend after Christmas in Griffin, Georgia with Garrett's dads side of the family. A good time is had by all when the Harvey's get together. The boys and a few brave girls spent the day hunting quail while the rest of us prepared for the annual Harvey holiday feast.