Several months ago, I mentioned to G that it would be fun to mark his thirtieth birthday with a tour of the Okefenokee swamp. Growing up in Waycross, Georgia, he had spent most of his life learning and exploring the Okefenokee, but the tour would allow us an opportunity to spend three nights canoeing and camping in remote areas that many have never seen. While the conditions were not ideal (think, canoeing up to 13 miles a day and sleeping on platforms surrounded by gators and bugs), I thought the experience would be memorable to say the least. By mid November, the plans were set. G's mom had also decided to embark on the journey and Papa Joe and Meme had graciously offered to take care of sweet Mary Reese.
Fast forward to the week of G's birthday (Nov 18). Without getting into too many details, I had been having irregular menstrual periods and decided to visit my gynecologist in hopes that he would once again prescribe the progesterone pill to start my period. After a quick urine test, it was obvious why I was late again. I was pregnant! At the time, G was in New York for the week on business. I made up my mind that I would do my best to keep it a secret and surprise him upon his return home. That lasted all of two hours.
Since we were very early on, we decided to just tell the family. The news was especially exciting because my sister and I would be pregnant at the same time and due within 2-3 weeks of each other. As the big news sunk in and my waist started to expand, it was obvious that this was not my year to experience the Okefenokee swamp. Instead, G and his mom would brave the three day trip and Mary Reese would get to spend some quality time with her grandparents while I caught up on some things around the house.
While we're on the truth, I can tell you that I'm only around 7 or 8 weeks, which is still very early on. I can also tell you that I am already showing and am very close to unpacking my maternity clothes. Our next sonogram is planned for Monday so we should find out our official due date then.
And finally, I can tell you that I barley managed to survive the week without G and sweet MR. And barley got them unpacked before we were in the car again, headed to Waycross. I'll post pics later in the week of our trip, but for now, here are a few pics of my number one girl!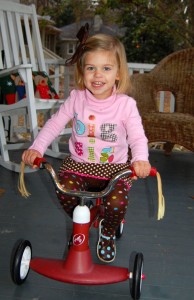 MR got to sit on the big mans lap last Wednesday.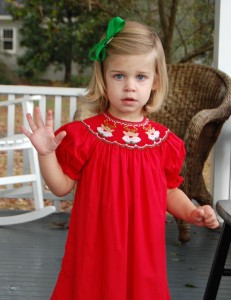 Consulting over this years Christmas list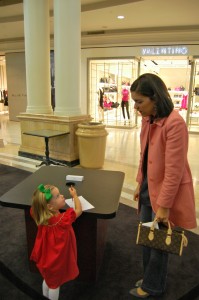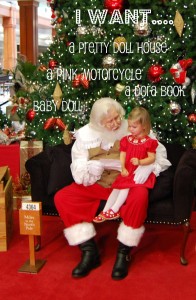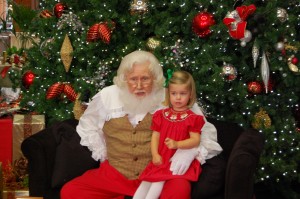 Random, but worthy….Thanks to Gran C, MR has been broken of her "Bobbi-C" (pacifier) for the last 4 months and in a "big girl bed" for the last 2. The transition was much easier than expected. We're praying that another grandparent will step up and get this child potty trained before the arrival of baby 2!