Vacation came and went. G and I came back rested and 4 pounds heavier. Since my post beach blues have officially set in, I have decided to extend my own personal vacation for one more week. This in turn means that I can eat whatever I want, whenever. It also prohibits me from stepping foot in the gym and partaking in cleaning and laundry duty. Yep, I'm on total shut down. All I can think about is moving closer to home so that we can enjoy visits with family and friends and trips to the Georgia and Florida coast. And Georgia football. And boiled peanuts. And of course, "free" babysitters.
Baby girl also has a case of the post vacation blues. Last week she enjoyed a life full of activity and attention. This week, our only outings have been a quick trip to Aunt Ju-Ju's, an even quicker trip to the grocery store, and a visit to the pediatrician for a 9 month checkup. No shots this time around, just some new digits to add to the baby book. At 9 1/2 months, MR weighs 22 pounds and 14 ounces and is 29 1/2″ long. She measured in at the 95% for both weight and height. Garrett and I are so thankful for such a healthy and happy little girl!
Tomorrow G flies out for his interview in upstate New York. We are praying for God's will. Please pray that He will continue to guide us with His infinite wisdom and that we will accept whatever He has in store for us…even if it means living in my parent's basement.
Update 9:45 pm: Scratch the "no laundry" rule; G just informed me that all of his undershirts are dirty. Im heading down to start load #1 of 3…
Sleepy head on the final day of vacation.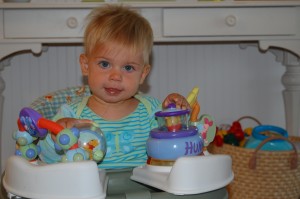 We've been seeing this expression a lot lately.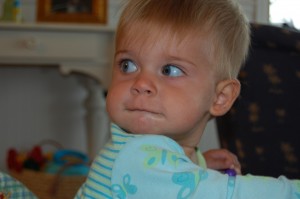 Because every trip home should include a visit to a John Deere dealer,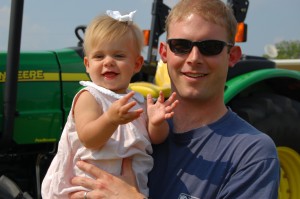 and lunch on the road provided by Danny,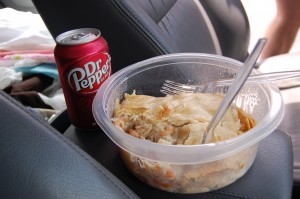 and of course, one more visit with the grandparents.